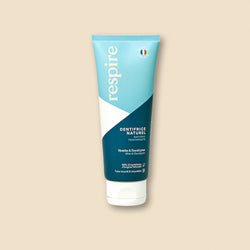 RESPIRE
Natural Toothpaste - Mint & Eucalyptus 75ml
Because at onfootprint we believe that sustainability is a lifestyle, we have decided to also offer products from our everyday life that are better for out planet. 
This natural toothpaste is made from 99% natural origin ingredients, with a vegan formula and it was made in France. 
Its packaging is recycled and recyclable. 

Capacity: 75 ml.
- Strengthens tooth enamel with hydroxyapatite and birch leaf extractsenriched with minerals naturally present in tooth enamel 

- Cleans teeth and fights against dental plaque thanks to baking soda and silicas, natural powders, and microgranules with exfoliating properties.
- Mint & eucalyptus flavour of natural origin

Full list: GLYCERIN, AQUA, SORBITOL, HYDRATED SILICA,
SODIUM COCOYL ISETHIONATE, FLAVOUR, LAURYL GLUCOSIDE,
HYDROXYAPATITE, CARRAGEENAN, SODIUM BICARBONATE,
BETULA ALBA LEAF EXTRACT, XANTHAN GUM, STEVIA
REBAUDIANA EXTRACT, POTASSIUM SORBATE, SORBIC ACID